The magical hands of our masters do miracles by creating new looks or emphasizing the natural beauty of our dear guests.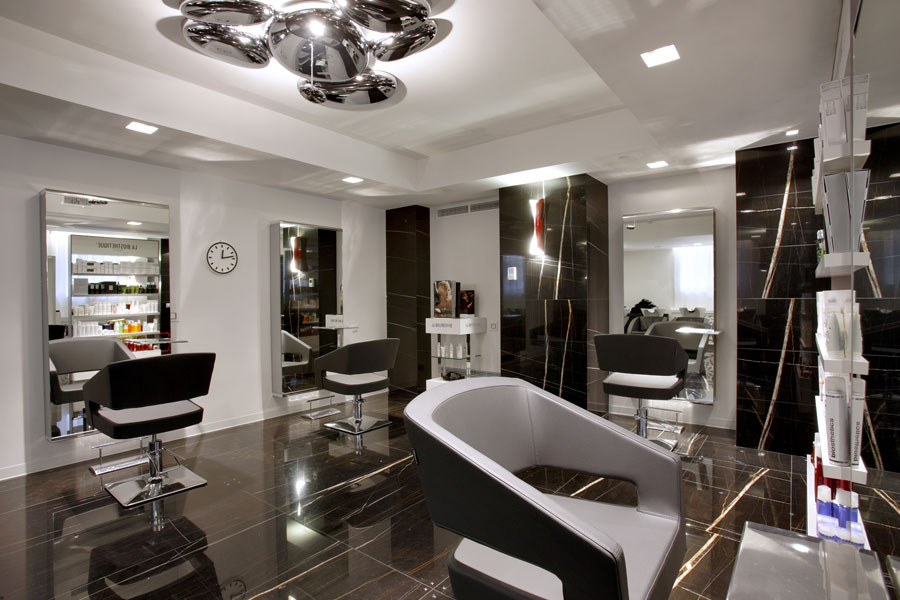 WORLD BRANDS AND A LUXURY SERVICES FOR YOUR BEAUTY
The beauty studio of the Golden Mile Fitness & Spa club provides its customers with the most exclusive and high-quality services in all areas. Our certified stylists will help you choose the perfect look and force it into reality! Fashionable haircuts, hair coloring and regenerative procedures - all these modern trends are represented in our list of services. Professional make-up artists will help you to create a wonderful makeup look for a special occasion or make a permanent makeup in accordance with the client's wishes. We paid a lot of attention to the nail service. During all the procedures, we use only exclusive materials from world famous brands.
HAIRCUT AND HAIRSTYLE
| | |
| --- | --- |
| Women haircut | 3900/6100 |
| Men's haircut & styling | 3500/4000 |
| Men's haircut with the clipper | 1900 |
| Bang haircut | 1000 |
| Beard and mustache haircuts | 1500 |
| Children's haircut (children under 12 years old) | 2800 |
| Hair washing and blow-dry | 1500 |
| Women's styling | 2500 / 3600 / 4600 |
| Braid creating | 1500 / 2000 / 3000 |
| Hair styling for extensions hair | 5000 |
| Coctail styling | 5500 |
| Evening styling | 6900 / 8900 |
| Beard or mustache correction | 1000 |
| Hair border | 900 |
| Shampooing and drying hair | 1000 |
HAIR COLORING
| | |
| --- | --- |
| Kydra coloring | 5500 / 8100 / 9900 / 12500 |
| Goldwell coloring | 5500 / 6500 / 7500 |
| Hair coloring. Hair perm and toning | 5500 |
| LaBiosthetique coloring | 6000 / 6500 / 7000 |
| SHATUSH, OMBRE | 7000 |
| Biolumination SHINE 3 length | 4500 |
| Hair highlighting | 6000 / 7000 / 8000 |
| Decapping | 3000 / 4000 / 5000 |
| Blonding | 4000 / 5000 / 6000 |
| OLAPLEX + safe coloring | 3000 |
| SHINE Biolumination | 4000 / 5000 / 6000 |
CARE
| | |
| --- | --- |
| Author's head massage | 2500 |
DAVINES
| | |
| --- | --- |
| "Vegetarian miracle" nutrition | 1500 |
| "Hair Strength" density | 1500 |
LEBEL
| | |
| --- | --- |
| Lebel scalp peeling | 3000 |
| "Infinity Aurum Serum" form control from Lebel | 2000 / 3000 / 4500 |
| Lebel Absolute Happiness Care | 5000 / 6700 / 8400 |
| Shine and Strength Care from Lebel | 3000 / 4700 / 6400 / 8100 |
| Golden Update care from Lebel | 1800 / 3300 / 4800 |
| Lebel Hair Happiness | 4000 / 5700 / 7400 |
LABEL STRAIGHTENING
| | |
| --- | --- |
| Molecular straighting care | 11000 / 15000 / 19000 |
OLAPLEX
| | |
| --- | --- |
| Olaplex care | 3000 / 4000 / 5000 |
ORIBE
| | |
| --- | --- |
| Oribe Luxury Gold Care | 2500 / 3000 / 3500 |
BOTOX KV - 1
| | |
| --- | --- |
| Botox for hair "Kv - 1" | 3000 / 4000 / 5000 / 7500 |
| Botox for hair "Kv - 1" (60 min) | 4500 / 6000 / 7500 / 11250 |
GOLDWELL
| | |
| --- | --- |
| Color Preservation Serum | 600 |
ICON
| | |
| --- | --- |
| Repairing cure by Chiara | 500 / 2000 |
| Detox energy care | 2000 / 1500 |
| Smoothing care | 1500 / 2000 |
LABIOSTHETIQUE
| | |
| --- | --- |
| LaBiosthetique ampoule "From falling out" | 2000 |
DEMI
| | |
| --- | --- |
| COMPOSIO EQ care by Demi | 2500 / 4200 / 5900 |
| COMPOSIO PRO care by Demi | 3000 / 4700 / 6400 |
| Flamboyage | 6500 / 7500 / 8500 |
| Japanese-style head wash with massage | 3000 |
| Framesi coloring | 5500 / 8100 / 9900 |
MAKEUP
| | |
| --- | --- |
| Daytime makeup (60 min) | 4500 |
| Evening makeup (90 min) | 6000 |
| Wedding makeup (120 min) | 8000 |
| Nude makeup (60 min) | 3000 |
| Partial makeup (60 min) | 2500 |
| Lamination of eyelashes + Lamination of eyebrows (150 min) | 10000 |
| Eyebrow design and architecture (60 min) | 5000 |
| Eyelash / Eyebrow botox | 1500 |
| Facial hair removal one zone | 1500 |
| Long-term styling of eyebrows (40 min) | 7500 |
| Eyebrow lamination (90 min) | 7150 |
| Eyelashes lamination (90 min) | 7500 |
| Eyebrow correction for men (60 min) | 2000 |
| Eyebrow coloring with henna (60 min) | 2800 |
| Eyelash coloring (60 min) | 1800 |
| Eyebrow shaping (60 min) | 2800 |
| Bundle glueing | 500 |
| Eyelash Removal | 1000 |
| Makeup lesson (120 min) | 12000 |